China's mental hospitals: a new push to quash dissent?
Forced commitments to China's mental hospitals are rising on the local-government level, lawyers and activists say.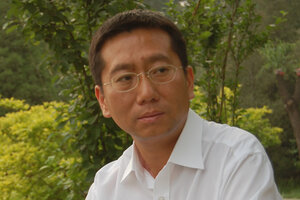 Peter Ford/The Christian Science Monitor
When Zheng Ran felt that he had been unfairly denied a promotion at the branch of the Bank of Beijing where he worked, he decided to strike back.
Little did he think that his outspoken series of Internet posts, alleging financial misdeeds at the bank, would land him in a mental asylum.
His public accusations, however, which he broadened into increasingly sharp criticisms of the Chinese government, made him a troublemaker in the eyes of the authorities. And in May 2008, just before the Beijing Olympics, troublemakers were especially unwanted.
All it took to have him forcibly committed to a mental hospital, he recalls, telling his story calmly and lucidly, was an hour-long talk with two police doctors who diagnosed him as suffering from "paranoid disorders."
"The police told my parents that since the Olympics were coming up and it would cost too much to monitor me at home, there was nowhere else to put me," Mr. Zheng says.
Zheng's case is typical of an increasingly common phenomenon, lawyers and activists say: Local authorities determined to silence citizens who criticize the government find the easiest and quickest way to deal with them is to lock them away in an asylum.
The practice gained national attention in April when Xu Wu, a former security guard at a steel mill in Wuhan, was dragged from a TV station in the southern city of Guangzhou, where he had just given an interview explaining his plight, by seven unidentified men.
---