New Zealand earthquake rocks Christchurch rebuilding hopes
New Zealand Prime Minister John Key said this week's tremors have hit the same parts of the city that were devastated by the Feb. 22 earthquakes. He hinted that parts of the city may have to be permanently abandoned.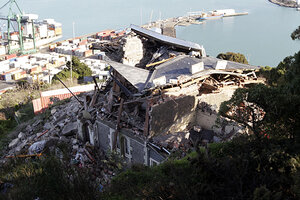 Mark Mitchell/New Zealand Herald/AP
New Zealand's second-largest city was rocked by a fresh earthquake this week even as it struggles to rebuild and bring a measure of closure to tragedy following two devastating earthquakes nearly four months ago.
Shortly after an inquest into the deaths of Christchurch earthquake victims broke for lunch Monday, the Riccarton Function Centre, where families of the 181 victims waited for answers about the collapse of an office building on Feb. 22, was shaken by a 5.5-magnitude earthquake.
The court resumed at 2:15 p.m., only to be hastily reevacuated five minutes later when a significantly more powerful 6.0 temblor rocked the city again.
With that hearing now indefinitely postponed, it has been left to the residents of the formerly picturesque Christchurch – along with increasingly pressured leaders here in the political capital, Wellington – to ponder how to rebuild life.
Severe tremors are common in geologically young New Zealand, a land sometimes referred to as "the shaky isles" for its prime position on the Pacific Rim's "Ring of Fire" – a series of seismically active fault zones. But the duration of the recent activity, which began last September, is unprecedented in the country's 171-year history.
---