Vietnam-China Spratly Islands dispute threatens to escalate
Tensions between China and Vietnam have risen in recent weeks, with Vietnam expressing alarm at what it says are increasingly aggressive actions by China in disputed waters.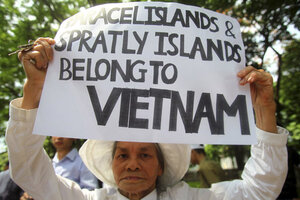 Na Son Nguyen/AP
Tensions between Vietnam and China over disputed claims to the resource-rich Spratly Islands in the South China Sea are threatening peace in the region.
China sent its largest patrol ship Thursday on what it claimed was a routine trip through the area, but the deployment comes after a spate of other moves, including Vietnam's staging of a live-fire exercise in the area and China's denouncement of it.
Neither country is likely to back down easily, and if they did, neither population would see it in a favorable light. Because of this, some worry tensions could escalate to the point of exchange of fire.
"At the moment, Vietnam is trying to show that it is not going to take [challenges to its claim in the sea] lying down," says Minxin Pei, a China expert at the Claremount McKenna College. "Rationally, China should cool it a bit. Having a fight with Hanoi is not a good idea. But if Vietnam sends back survey ships China may have no choice but to respond."
---
Follow Stories Like This
Get the Monitor stories you care about delivered to your inbox.