Landmark Khmer Rouge genocide trial: Do Cambodians care?
The Cambodian government is stepping up efforts to inform the country about the Khmer Rouge's bloody rule.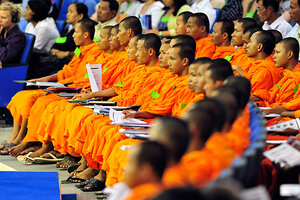 Mark Peters/Extraordinary Chambers in the Courts of Cambodia/AP
Inside a purpose-built courtroom, four elderly Khmer Rouge leaders went on trial here this week in a case that was hailed as a landmark for Cambodian justice under a UN-backed war-crimes tribunal.
But on the streets of the capital, many ordinary Cambodians seemed unsure about what exactly was unfolding and why they should take time out from their daily struggles to pay attention. Others expressed bafflement at the circuitous path of the hearings, the rights afforded to truculent suspects and the tribunal's lavish budget in a war-ravaged country mired in poverty.
"They spent a lot of money. So where is the verdict?" asks Kosal Kong, a motorized-cart driver who lost relatives during the Khmer Rouge's 1975-79 genocidal reign.
In fact, the tribunal last year convicted a prison-camp director who confessed to war crimes. But the leaders currently on trial are bigger names, particularly for Cambodians who lived through that dark period. But a survey taken in December found that most Cambodians can't name the four leaders, though overall awareness of the tribunal was on the increase. A quarter of respondents said they knew nothing about it. In 2008, the equivalent figure was 39 percent, according to the University of California, Berkley, which carried out the surveys.
Efforts to publicize trials stepped up
Officials at the Extraordinary Chambers in the Courts of Cambodia (ECCC), say they're stepping up efforts to publicize the latest trials. "We need to work harder to bring more people to come here. The people are the victims of the Khmer Rouge. They want to know what happened," says Neth Pheaktra, an ECCC spokesman.
---