'Naked marriages' on rise in China
As costs soar in the cities, more couples in China are opting for 'naked marriages' - those without the once-required trappings of a house, a car, and other goods.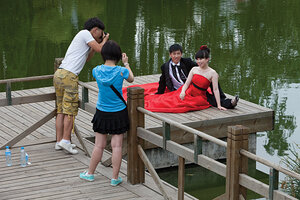 Melanie Stetson Freeman/Staff
Even to the most modern of young Beijing couples, some traditions are sacred: Real estate consultant Zhu Heng and his lawyer bride, Jia Zhiwei, are postponing their wedding banquet until Mr. Zhu's parents' feng shui adviser chooses an auspicious date for it.
But helpless in the face of astronomical housing prices in the capital, Zhu had to marry the woman he loves without being able to offer her a home of their own – a standard requirement of Chinese brides down the ages.
"I feel pretty guilty about it, but it's a question of reality," says Zhu, shrugging his shoulders. "A lot of my generation understands that it's just not possible."
In China's most prosperous cities, time-honored truths are losing their luster for young adults coping with a very different world from the one their forebears knew.
Wang Yu, a secretary, and her husband, Wang Lue, a sales engineer for an electronics company in Beijing, were both born after China introduced its one-child policy in 1979. Like couples almost everywhere in the country made up of only-children, they are eligible to have two kids. But they are not going to.
"Their thinking is not like their parents'," says Feng Xiaotian, head of the sociology department at Nanjing University, who studies young couples made up of only-children. "They have the choice but they are just like their whole generation. Sixty percent of them want only one child."
For a start, they say, having one child is normal to them, since they were brought up alone. But more important, says Ms. Wang, "more children mean more pressure." She adds, "It's very expensive to raise a child here."
The cost of feeding and clothing a child is nothing compared with the cost of educating him or her in a competitive city like Beijing. Parents know that the road to the best universities begins with the best primary schools, and getting your child into one of those takes connections or money.
---