One year after Japan tsunami: Roads repaired, but lives still disrupted
One year after the Japan tsunami, earthquake, and nuclear disaster, many roads are rebuilt and debris is cleaned up. But much remains in flux for residents of the hard-hit northeast coastal zone.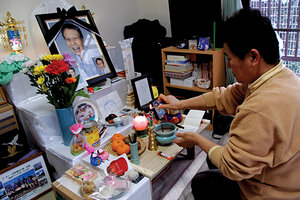 Erico Waga
When Takako Ouchi's elderly mother died last December, tradition dictated she be laid to rest in a cemetery near her home.
But the cemetery, like her old house, lies in the shadow of the Fukushima Daiichi nuclear plant, rendered unreachable – perhaps forever – because of radiation. Instead, Ms. Ouchi has constructed a shrine to her mother in the bedroom of her new home, 40 miles away.
Her mother's final resting place remains in flux – as does much of Ouchi's life. "I think about different plans every day, and it's driving me crazy," she says, sitting cross-legged on the floor at a low table in her living room. "I cannot see when this uncertainty will lift."
A year after the triple disaster – earthquake, tsunami, and nuclear meltdown – that slammed northeastern Japan, recovery has been painfully slow. Roads and railways have reopened, most debris has been cleared, and the gyms and schools that served as shelters in the first days of the crisis now ring once again with the voices of athletes and students.
But longer-term prospects for the region and its inhabitants are still hazy. Few of those who lost homes know where they will be living this time next year, or where the money they need to live on will come from. Recovery efforts have been hampered by the scale of the disaster and "a lack of leadership," says Masaru Kohno, a political analyst at Tokyo's Waseda University. "The authorities have not done what they needed to."
Decisive leadership has not been easy for a government constrained by an opposition-controlled upper house that has blocked many of its initiatives. But even when decisions have been made, they have often become bogged down in Japan's notorious bureaucracy. Only a fraction of the funds for reconstruction has been spent.
---