Indonesia backs off plans to hike price of gas after protests
But pressure continues to mount to increase prices from their current, government-subsidized $2 per gallon, as the subsidies sap resources from education, health care, and other programs.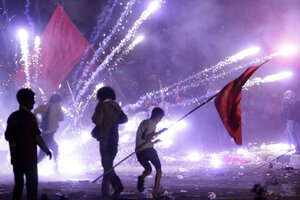 Achmad Ibrahim/AP
After more than 80,000 Indonesians took to the streets last week in violent protests against raising the price of heavily subsidized fuel, the Indonesian government has revised its budget to prevent the price hike planned for Sunday from taking effect. But with world oil prices soaring and Indonesia faced with a ballooning budget deficit, the respite is unlikely to last long.
In recent weeks the government had been pushing for a 33 percent rise in the price of subsidized fuel to reduce the burden it puts on the country's budget, which is based on an oil price assumption of $105 a barrel.
On March 31, lawmakers agreed to a price adjustment only if the Indonesian Crude Price exceeds that amount by an average of 15 percent for six continuous months. The current price averages below that, at around $116 a barrel.
The debate over the price hike has drawn attention to the government's ability to push through much-needed reforms and wean the country off subsidies that most agree must go.
"Everybody knows the price of fuel must increase, because otherwise you don't have enough money for education, health care, transportation, and whatever," says Yohannes Sulaiman, a lecturer at Indonesia's National Defense University.
Last year, the government spent 15 percent of its budget on oil and gas subsidies, more than it spent on social services and improvements to dilapidated ports, roads, and power plants.
But no party wants to be seen as the one that increased the price of fuel, said Mr. Sulaiman, particularly not with 2014 elections coming up.
A distorted economy
Indonesia was a member of the Organization of Petroleum Exporting Countries (OPEC) until 2008. It now depends on imports to meet domestic demand, but thanks to long-running subsidies, people pay around $2 a gallon for gas, the lowest price in all of Asia.
---