Thailand's blueprint to rein in fallout from floods and drought
Hundreds died and businesses lost billion in last year's floods, caused in part by overflow from dams filled to hedge against drought. This year, Thailand is testing different prevention measures.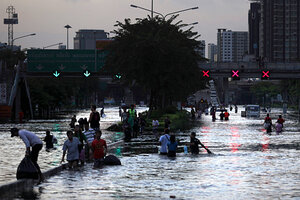 Altaf Qadri/AP/File
Bang Luang Dod, Ayutthaya Province, Thailand
Despite seeing his 60 acres of rice paddies covered in more than 10 feet of water for three months during late 2011, farmer Tawee Wongsan is sanguine about flooding this year. "I don't think there will be flooding this year," he says. "The water in the big dams is not so high like last year."
Last year's floods killed more than 800 people and caused an estimated $40 billion damage to the country's $345 billion economy, which is the world's 25th largest. Water covered several districts of Bangkok and swamped industrial zones that include vital automobile and electronics sectors, disrupting global supply chains.
The floods were actually caused in part by reaction to a drought the previous year. To hedge against water shortage, Thailand's dams were allowed to stay almost full throughout 2011. But after months of heavy rainfall, the eventual spillover met an already sodden floodplain.
This year, Thailand could face a "drought or flood conundrum" again.
Yesterday, Thailand's Disaster Prevention and Mitigation Department said that a total of 39 provinces, mostly in the agricultural north and northeast, were already experiencing water shortages. But elsewhere in the country, heavy rain has been falling, prompting authorities to aim to reduce water-levels in dams to around 45 percent by May. "It is 50-50 whether we have flood or drought in some places this year," says Rungruang Lertsirivorakul of the Department of Geotechnology at Khon Kaen University.
One possible solution to the dilemma, says Matthew McCartney of the International Water Management Institute (IWMI), is to use floodwater to fight drought.
---