In surprise move, South Korea postpones military intelligence pact with Japan
South Korea and Japan were supposed to sign a military intelligence pact today – but a political firestorm erupted in South Korea, where resentment of Japan's colonization remains.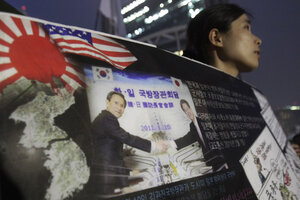 Ahn Young-joon/AP
South Korea has abruptly backed off from signing a historic agreement to share military intelligence with Japan in a move that highlights the century-old tensions between the two countries.
Defense officials postponed the pact's ratification just ahead of the signing ceremony on Friday in Tokyo after Korean President Lee Myung-bak failed to win the support of his own ruling party for the deal.
The announcement, made earlier this week, that Seoul would share classified materials such as satellite imagery with Japan came as a surprise to National Assembly lawmakers across the political spectrum who are on recess until next week. Some observers say the pact, which could have strengthened bilateral ties, failed because too much secrecy surrounded such a sensitive process.
"The big criticism is that the government ignored the procedural process," says Song Wha-sup of the Korea Institute for Defense Analyses, a think tank linked to Seoul's Ministry of Defense. "When the National Assembly opens and the [pact] is explained, I think the ruling party will support the agreement."
South Koreans will elect a new leader later this year and the ruling New Frontier Party is trying to distance itself from President Lee who cannot seek another term in office. And in South Korea, appearing too close to the Japanese government, let alone the military, could be political harakiri.
Trust between these East Asian neighbors is hard to come by. Many South Koreans feel Tokyo is unrepentant for its brutal early 20th century rule of the peninsula, which ended in 1945.
---