An Olympic-sized flap over Taiwan's flag
Taiwan's flag has not been shown at the London Games and the island government suspects that China bullied the Olympic committee into pulling the flag from display.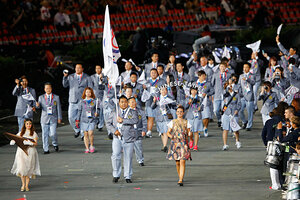 Mike Blake/Reuters
Taiwan protested in London this week and cast an angry eye on political rival China after the sudden removal of Taiwan's flag near the 2012 Olympics venues.
It's an unusually harsh test of the often-marginalized island's global profile that could strain relations with Beijing after four years of improvement.
The official Republic of China flag, which represents Taiwan, was removed from the Regent Street shopping district in London on July 24 and replaced a day later by an Olympic flag that links the island's athletes to China. The island's president, Ma Ying-jeou, ordered an investigation into why a Regent Street commercial association made the switch after four days of displaying the official flag along with 200 others from around the world. China may have asked that the original flag be taken down, media in Taipei say.
Taiwan-China ties have improved since 2008, when the two sides began to establish formal economic relations. But Taiwan lacks the faith in China to discuss sticky political issues, and the flag incident is unlikely to help the situation.
"If this kind of incident happens two or three times, then it will impact relations," says Kou Chien-wen, a political scientist at National Cheng Chi University in Taipei. "I would definitely go and talk to the mainland [China] about this matter. But to fly that flag is something the Chinese government can't tolerate."
Similar incidents have occurred in the past: Taipei often thunders when world sports or health organizations block its participation because of perceived pressure from Beijing.
---