Taiwan president says peace deal with China not a top priority
As he started his second term Sunday, Taiwan President Ma said trade liberalization would take priority over any peace accord with China, for which there is little public support.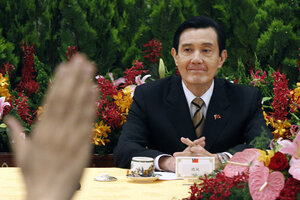 Wally Santana/AP
Taiwan's president said this week that signing a peace accord with old foe China would be shelved for lack of popular support, as the island looks to economic and trade deals to keep improving ties between the two sides that once braced for war.
As he kicked off a second term in office on Sunday, President Ma Ying-jeou told a news conference that signing a formal peace deal was not "urgent." More trade, investment, and economic cooperation deals will help the two sides build trust that may some day parlay into political accords, his government says.
Sixteen pacts signed in Mr. Ma's first term, all business-related, raised the confidence level while bringing billions of US dollars to Taiwanese companies. But the president, often criticized at home for getting too close to China, considers a peace accord too risky without public support, experts say. Mr. Ma floated the idea last year as he sought reelection but dropped it when the anti-Beijing main opposition stirred up complaints.
It's unclear how a peace accord would be worded or carried out while the two sides lack formal diplomatic ties, says Alexander Huang, a strategic studies professor at Tamkang University in Taiwan. Some fear that a peace agreement, though reassuring by itself, would open doors to less welcome deals that merge the two sides politically.
"Political trust is very low," Mr. Huang says. "Even if you sign an accord with champagne, people will still think that if [China] gets mad, they would tear up the agreement and fire at us."
How will China react?
"Taiwan will first handle easy but pressing issues with China, and only then handle harder ones, putting economic issues before political ones," Ma said. "In that vein, there is no urgency to discuss a peace accord now with mainland China, and Taiwan's people must first express a high level of support, including a voter referendum."
---