Japan's poverty gap has politicians calling for rise in minimum wage
It is only over the past decade that poverty has come to be recognized in Japan. Prior to that, the government didn't even compile statistics on income inequality.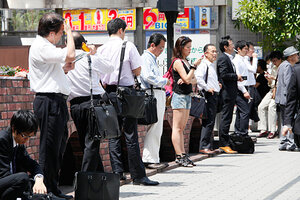 Koji Sasahara/AP
Having failed to graduate from high school in a country that places significant emphasis on education and where 92 percent of the population graduates, Hiro knew his prospects of a steady job in a Japanese company were slim.
But, he says, "I never thought it would be this bad. I didn't ever expect to be rich, but I never thought it would be this tough," says the 27-year-old, who asked to be identified only by his first name out of respect to his family.
Still, regarding himself as a hard worker, he estimated he could earn a decent wage with his hands. Following four years of regular employment in an automotive parts company when he left school, Hiro has spent seven years working where and when he can. Unable to find regular, full-time employment, he works at factories, construction sites, and anywhere else he is sent by a temporary agency, earning 160,000–180,000 yen ($1,580–1,980) a month, when there is work.
Hiro represents a growing number of Japanese living below the poverty line.
Famously, a majority of Japan's population once considered themselves middle class. While this was always something of an illusion, income inequality was lower than in other industrialized nations and there was almost full employment. Now, the ranks of those being left at the bottom of the world's third-largest economy are swelling, and they are falling further behind the rest of society. The Health, Labor and Welfare Ministry announced last month that a record 2.1 million people are now receiving benefits and other financial assistance.
As Japan's corporations struggle to compete with lower-cost Asian rivals, along with the yen at a record high, they are increasingly moving factories abroad and acquiring foreign companies. The biggest losers in this economy, however, are the workers in Japan who used to be steadily employed in those factories on decent wages, with pensions and other benefits. The once reliable public construction projects, and the jobs that went with them, are also drying up as Japan's government attempts to rein in its huge national debt.
---