How China views Obama's trip to Myanmar
China is watching Obama's trip to neighboring Myanmar, Thailand, and Cambodia this weekend with a wary eye. But Myanmar could offer an opportunity for China and the US to work together, say analysts.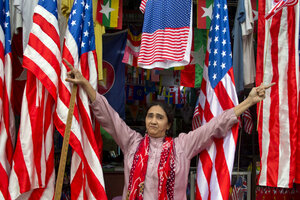 Gemunu Amarasinghe/AP
As President Obama heads to Myanmar, Cambodia, and Thailand on Saturday, China is keeping a wary eye on the latest US move in the sometimes bruising tussle between the two giants for influence in the region.
Beijing is nervous that Mr. Obama's "pivot to Asia," a drive to strengthen old US friendships and forge new ones, is a strategy designed to hem China in.
Myanmar (also called Burma) is Exhibit No. 1 in the case for such fears. A nascent civilian government has recently stepped out of neighboring China's orbit and leaned toward the West with liberal political and economic reforms there.
But Myanmar, an impoverished and ramshackle country, despite its wealth of natural resources, could offer an opportunity for China and the US to work together, suggest analysts in both countries. (see map here).
"The US is trying to compete with China to make friends with Asian countries, but this does not have to be a zero-sum game," argues Liu Feitao, an expert on US policy in Asia at the Chinese Institute for International Studies, a think tank linked to the Foreign Ministry in Beijing.
"Burma could be one area where we can get beyond the idea of strategic competition," agrees Michael Green, head of the Asia desk at the National Security Council during the Bush administration. "US-China relations with third countries could be healthy."
---