Obama is right to visit Myanmar (Burma)
The apparent end of censorship has unleashed a veritable media gold rush in Myanmar (Burma). On his visit there, President Obama should encourage the country's wave of democratic reforms by highlighting the urgent need for free and open media to reach all parts of the country.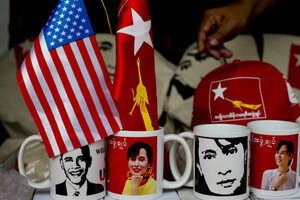 Gemunu Amarasinghe/AP
President Obama's upcoming trip to Myanmar (Burma) on Nov. 19 is being greeted by a chorus of skeptics as naïve, premature, a reward for a ruthless dictator, and worse. They are wrong.
In truth, Myanmar, under President Thein Sein, is embarking on one of the most rapid and radical democratic transformations of any country in modern history. Once skeptical, I returned from Myanmar this week stunned by the breadth of democratic changes happening across the political, media, and economic landscape. President Obama's advisers have rightly judged that a top-down democratic revolution is underway in a country known for its brutal crackdown on nonviolent protests by its revered Buddhist monks just five years ago.
In February 2008, the ruling junta put forth a new constitution that offered limited civilian rule. Few took it seriously. But there began to be hints that the military junta was prepared to take real steps toward democratic reform. In 2010, the junta freed Aung San Suu Kyi, the leader of the opposition, from 15 years of house arrest and released hundreds of other political prisoners.
At the end of March 2011, a former general, Thein Sein, was sworn in as Myanmar's first non-interim civilian president in almost 50 years. The right to unionize was legalized in principle and opposition political parties were allowed to compete in elections. Currency reform was introduced and the parliament passed a remarkably liberal direct foreign investment law. Ms. Aung San Suu Kyi declared that the country was "on the verge of a breakthrough to democracy."
---