Japan's hawkish Abe claims the win, but not a mandate
Shinzo Abe is set to become Japan's seventh prime minister in 6-1/2 years on Dec. 26. While he is known for a tougher line on China, many say he will focus largely on Japan's economy.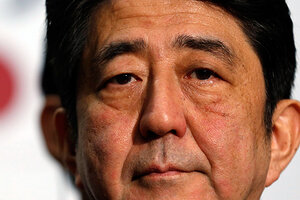 Toru Hanai/Reuters
Japan's Liberal Democratic Party (LDP) may have secured a convincing victory on Sunday, but it can hardly claim a mandate.
The vagaries of the Japanese electoral system and the sheer number of party choices on offer left the LDP with about 30 percent of the popular vote, in an election that saw a postwar low turnout of 59.3 percent.
Incoming Prime Minister Shinzo Abe responded with a dose of humility, conceding that the LDP had simply benefited from widespread anger with the outgoing Democratic Party of Japan (DPJ) administration.
"Our victory this time does not mean trust in the LDP has been completely restored," he said. "Rather, it was a decision by the public that they should put an end to the political stagnation and confusion over the past three years, caused by the DPJ's misguided political leadership."
Even with control of two-thirds of the lower house as part of an expected alliance with the much smaller New Komeito Party, analysts say Mr. Abe does not have carte blanche to push his right-wing agenda: revising Japan's pacifist Constitution to give the military a greater role, higher defense spending, and the development of uninhabited islands at the center of a dispute with China.
---