South Korea's president-elect promises 'new era of change'
Park Geun-hye's calls for inter-Korean dialogue are mixed with a firm stance against compromise.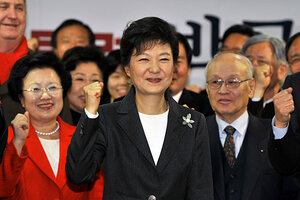 Jung Yeon-je/AP
South Korea's President-elect Park Geun-hye signaled today the tough policy toward North Korea that she's likely to pursue when she embarks on her five-year term as president in February.
She began the day after winning the presidential election by visiting the national cemetery, bowing before the grave of her father, Park Chung-hee, the long-ruling dictator who was assassinated by his intelligence chief in 1979.
"I will open up a new era of change and reform," she scrawled in the visitor's book, but soon she left no doubt she would mingle calls for inter-Korean dialogue with a firm stance against compromise.
North Korea's launch of a long-range rocket last week "showed how grave the security reality really is," she said at her party headquarters after the visit to the cemetery. Yes, she says she wants to open talks with North Korea – but she also vowed to keep her "promise of a new era of strong national security." Similarly, while calling for peace and reconciliation in Northeast Asia, she placed priority on dealing with the "security reality."
Though Ms. Park is not as hardline as outgoing President Lee Myung-bak, in the view of analysts, she is still not going to revert to the Sunshine policy of reconciliation espoused by two Korean presidents before Mr. Lee's election five years ago.
---