Could the 'Nano' launch a revolution on India's roads?
The new Tata Nano will sell for $2,500, making it affordable for some of India's poorer people.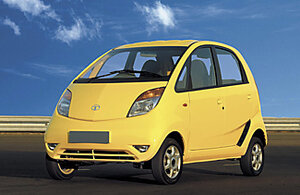 tata/Reuters
At this week's Indian Auto Expo, the Tata Nano was greeted like a rock star.
Boys elbowed aside mothers and old men, drawing their cellphone cameras as though they had spotted Britney Spears, rather than the toaster on training wheels that the Nano more nearly resembles.
"It is a revolution," one said. "It is a real achievement," added another. To all, it was proof in gleaming steel that India's engineers could do what was thought impossible: design a $2,500 car that does not require home assembly or a giant windup key.
Also amid the throng was Mohammed Yameen. Unlike the others, he had no designer zip-up sweater or polished shoes. He had a dirty chest-length beard, a blue jacket turned brown by dust, and is missing a few teeth. Yet he also had a smile that lasted minutes. In broken English, he exclaimed: "I want this car."
The miracle of the Nano is that, when it becomes available to the public this autumn, he might be able to have it.
In a country still emerging from the notion of caste, where status is keenly felt and now often defined by one's possessions, the car has become one of the ultimate measuring sticks dividing the haves from the have-nots. The Nano suggests that might no longer be the case.
---