In northwestern Pakistan, where militants rule
Foreign jihadists in an ungoverned tribal belt kill leaders, recruit locals.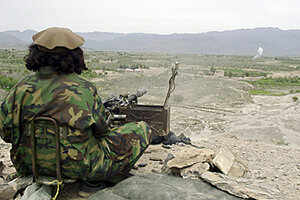 Kamran Wazir/Reuters/File
Every so often, the world witnesses the malice that lives in Pakistan's northwestern tribal belt – bombings in London and Madrid and the plot to blow up airplanes over the Atlantic, all had ties to terrorists there.
But Khalid Aziz Khan has seen that evil daily. As a resident of North Waziristan, an area in the tribal belt and perhaps the world's foremost finishing school for terrorists, he has seen a cousin killed, a school friend "brainwashed" and turned into a suicide bomber, and families murdered for opposing terrorists.
Mr. Khan, a student, offers a rare look inside the Federally Administered Tribal Areas (FATA) – increasingly the focus of the US war on terror, yet a place shrouded in mystery, since journalists are officially prohibited.
People there are being held hostage by foreign terrorists, he and other Peshawar University students from FATA say. They kill with impunity and have replaced tribal leadership with their own, bent on war in neighboring Afghanistan and jihad against the US.
But their comments also offer hope that the terrorists threatening Pakistan, Afghanistan, and the West can be uprooted.
"People say the local people support them, but [locals] are scared," says Khan, sitting in the office of a professor with three other students from Pakistan's unsettled border areas.
---