Bhutan makes it official: it's a democracy
The DPT swept 44 of 47 seats in the new National Assembly.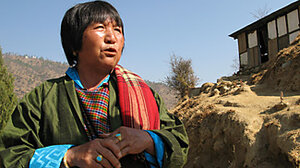 Mian Ridge
In warm spring sunshine, hundreds of thousands of Bhutanese queued to cast their ballots in the world's newest democracy yesterday. The elections will transform this diminutive nation, squeezed between India and China, from a hereditary monarchy into a modern democracy.
By late Monday evening, the Druk Phuensum Tshogpa (DPT) party had won the election, sweeping up 44 of the 47 seats in the new parliament. Turnout among the 320,000 registered voters was high, at nearly 80 percent.
"Provisional results suggest that the DPT has won by a landslide margin," says Tshering Dorji from Bhutan's election commission.
Bhutan's first democratically elected prime minister will be Jigmi Thinlay, a charismatic politician who has portrayed the DPT as the party of ordinary Bhutanese. His rival, Sangay Ngedup, leader of the rival People's Democratic Party (PDP), is the brother of the previous king's four wives, all sisters – a connection Prime Minister-elect Thinlay turned to his advantage. Had Mr. Ngedup won, say observers, it might have appeared as though power was simply being passed on to another member of the royal family.
In the days preceding the poll, the DPT appeared to be running neck and neck with its only rival. The parties shared near-identical manifestos, depriving Bhutan's elections of much drama. Both were based on the present government's five-year-plan and promised a rush of modernization in this remote, conservative country.
---