Taliban wages war on aid groups
Wednesday's ambush by the militants killed three Western aid workers and their Afghan driver. It's part of an apparent bid to rid Afghanistan of foreign aid workers.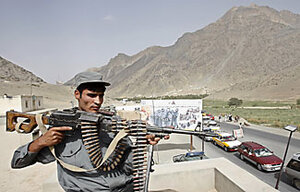 Omar Sobhani/Reuters
A Wednesday attack that killed three Western aid workers in Afghanistan raises concerns that the Taliban is attempting to force the expulsion of all foreign humanitarian workers from the troubled country.
"This was the worst attack in many years and is a major escalation of hostilities," says Sayed Rahim Satar, vice chairman of the Afghan NGO Coordinating Bureau.
The assault signals a shift in the Taliban's strategy toward a policy of direct confrontation with nongovernmental organizations (NGOs), says Waliullah Rahmani of the Kabul Center for Strategic Studies.
"This appears to be the beginning of a new approach," he says, "to surround Kabul and eliminate any foreign or government presence in the area."
Gunmen ambushed a vehicle carrying British-Canadian Jacqueline Kirk, Canadian Shirley Case, Trinidadian-American Nicole Dial, and Afghan employees of the International Rescue Committee (IRC), a New York-based NGO, in Logar, a province adjacent to Kabul.
The aid workers, who had been helping to establish schools and train teachers in the region, were traveling back from outer provinces to Kabul when the incident occurred.
---