Pakistan weak as militancy surges
Government strategy has been ineffective, and officials are preoccupied with bid to oust Musharraf.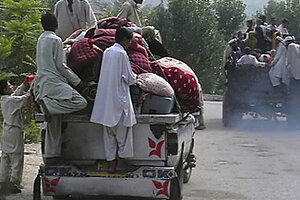 Anwarullah Khan/AP
Mian Azif has stood praying by his older brother's hospital bed every night since the father of four was wounded by a suicide bomber who killed eight people and injured 30.
I don't know why this has happened," whispers Mr Azif. "I think the government's policies on the militants must be wrong or something."
His view is not uncommon. Pakistan's mounting insurgency, centered in the north-western tribal areas bordering Afghanistan, has been exacerbated by a weak, four-month-old coalition government that lacks an effective antimili-tant strategy.
Following the suicide bombing near a mosque in Lahore last Wednesday – just before the anniversary of Pakistan's independence – concern is growing that the insurgency is increasingly spilling into Pakistan's towns and cities. Lahore's blast occurred only days after 13 people were killed by a bus bombing in Peshawar, a frontier town near Afghanistan increasingly targeted by the Taliban and aligned militant groups.
Exacerbating the problem is the government's preoccupation with its attempt to boot President Pervez Musharraf from power.
Sunday, the coalition's leaders – Asif Ali Zardari of the Pakistan People's Party (PPP) and former Prime Minister Nawaz Sharif of the PML-N Party – finished drawing up the charges they will launch against the former Army chief if he refuses to step down. It was a rare moment of unity between the former bitter enemies.
---