Afghan Taliban target Christian aid worker
While the insurgents have singled out Christians, there's also a rise in attacks on all aid workers.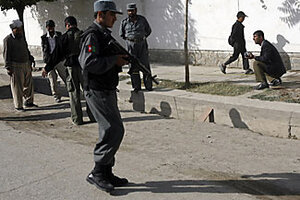 OMAR SOBHANI/REUTERS
Taliban gunmen killed a foreign Christian aid worker in Kabul on Monday, sending a warning against proselytizing in this Muslim country.
While the Islamic insurgents have targeted a number of Christian foreigners working in Afghanistan, the attacks fit into a rise in violence against aid workers.
"This is part of the Taliban's plan to make life difficult in Kabul," says Haroun Mir, director of the Afghanistan Center for Research and Policy Studies. "Everyone is now a target, especially foreigners working for Christian organizations."
The attack occurred around 8 a.m. Monday when gunmen on motorbikes fired at the aid worker, Gayle Williams, while she was walking to work, witnesses say. The incident took place in a busy section of the capital city that foreigners frequent.
A Taliban spokesman said that the worker was targeted because they believe she was proselytizing. "This woman came to Afghanistan to teach Christianity to the people of Afghanistan, Taliban spokesman Zabiullah Mujahed told the Associated Press. "Our [leaders] issued a decree to kill this woman. This morning our people killed her in Kabul."
The murdered woman, a British national originally from South Africa, was an employee of Serving Emergency Relief and Vocational Enterprises (SERVE), a British-based Christian charity that has been working in the region since 1980. The group's website says that its purpose is to "express God's love and bring hope by serving the people of Afghanistan."
---