Gauging Sri Lanka's inroads in battle against Tigers
The Army seized another key town, Pallai, Thursday, and has squeezed the rebels from north and south.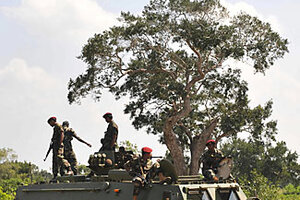 Lakruwan Wanniarachchi/AFP/Getty Images/Newscom
The Sri Lankan Army made significant inroads against the rebel Tamil Tigers in the past week – seizing their de facto capital and another key town, squeezing fighters from north and south – but these military victories are unlikely to mark the end of the island's quarter-century-old conflict.
Like many guerrilla groups, the Liberation Tigers of Tamil Eelam (LTTE) can resort to a military Plan B: retreat from towns but continue its battle from the jungle, making it difficult for the government to assert control over the long-embattled north.
"This [victory in Kilinochchi] is a huge military achievement with significant political ramifications," says Ashok Mehta, a retired general who led an unsuccessful Indian peacekeeping force against the Tigers in 1987. "But will it end the war? No."
Even if all Tiger-held territory is captured, it will only "end the conventional phase of the war," Mr. Mehta adds. From their hideout in the jungles, the Tigers may continue to wage "guerrilla attacks backed by suicide terrorist attacks."
Sri Lankan forces have boxed in the Tigers' territory since taking control of Pallai to the north on Thursday and Kilinochchi, the rebels' administrative capital, to the south last Friday. Between the two towns lies the strategic Elephant Pass, which connects Jaffna Peninsula in the north with the rest of the island.
---