Taliban who? Afghan filmmakers brave off-screen dramas
Some moviemakers risk their lives to bring provocative issues like gender and corruption to the big screen.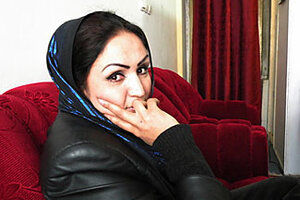 Anand Gopal
In the war-torn countryside, a maiden finds her path blocked by a group of threatening men.
But a woman from a nearby village suddenly jumps between the men and their victim. The men laugh at this ordinary peasant's attempt at a rescue.
Alas for them, this is no common peasant: It's Feroza! The undercover cop saves the day with some back flips and well-placed karate moves – all without smudging her eyeliner.
It's a scene from the movie "Najat," a recent title in the growing catalog of Afghan films that questions everything from gender roles to political corruption. Some filmmakers are braving death threats to bring such issues to the big screen, and they hope to change the way Afghans think.  
"I want to show that I am powerful," says Saba Sahar, who directed the film and starred as Feroza. "I want to convince all Afghan women that they are powerful."
Afghanistan has hundreds of small film companies, almost all of which started after the fall of the Taliban in 2001. Like Indian Bollywood films, they usually contain song-and-dance routines. Unlike Bollywood films, they often focus on war, deprivation, and loss. Many lack happy endings: One recent feature follows the travails of an Afghan in search of food. The movie closes after the protagonist dies of starvation.
Funding is a constant problem. The films are often crudely produced and they struggle to compete with their more polished Bollywood counterparts. But home-grown movies are popular outside Kabul, where most don't understand the Hindi spoken in Bollywood pictures. 
Policing by day, directing at night
---