Pakistan tries to derail popular cross-country protest
Authorities arrested hundreds of lawyers and activists and banned public gatherings in two provinces.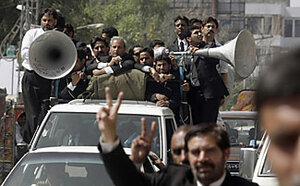 Anjum Naveed/AP
Pakistani authorities arrested hundreds of opposition activists and lawyers Wednesday in an apparent effort to stifle antigovernment momentum ahead of a lawyers' march on the capital.
The crackdown follows a ban on public gatherings in two provinces and a warning that opposition leaders could face sedition charges if serious violence erupts during the planned five-day march. Some opposition parties have piggybacked their political goals onto the lawyers' movement, which began in 2007 as a popular grass-roots drive for an independent judiciary.
The tough response reflects concern at the groundswell of discontent. Prolonged protest could further threaten the unpopular US-backed government, which is struggling to contain an Islamist insurgency as well as revive a faltering economy.
Last month the political party led by popular opposition figure Nawaz Sharif, PML-N, threw its weight behind the lawyers' movement after a controversial Supreme Court ruling declared Mr. Sharif and his brother, Shahbaz, ineligible from holding office. The brothers claim the verdict was directed by President Asif Ali Zardari, who heads the ruling Pakistan People's Party (PPP).
Despite the crackdown, a leader of the lawyers' movement, Ali Ahmad Kurd, said the marchers remained uncowed, telling television network Geo that the "long march" would proceed as planned from the southern cities of Karachi and Quetta on Thursday.
---