Pakistan protests: Pitch rises
Opposition leader Nawaz Sharif defied house arrest to rally protesters in Lahore Sunday.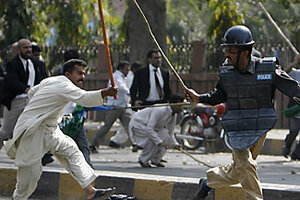 Mohsin Raza/Reuters
Islamabad and Lahore, Pakistan
Thousands of protesters in Lahore defied a government crackdown that has shocked Pakistanis and further isolated President Asif Ali Zardari.
Lawyers, activists, and opposition members overran barricades Sunday to reach Lahore's high court. Police there appeared split: Some charged with batons; others handed out water. Both tear gas and celebratory kites filled the air.
Recent efforts to suppress a cross-country protest march – including roundups of activists, tampering with cable news signals, and the alleged house arrest of opposition leader Nawaz Sharif – have many Pakistanis sensing déjà vu of past military regimes. Yet this government was democratically elected with a mandate to undo the dictatorial practices under Gen. Pervez Musharraf.
"The government is throwing everything they have at this march," says Iqbal Haider, co-chair of the Human Rights Commission of Pakistan. "The government is ruling like Musharraf's heirs."
Abida Hussain, a member of the executive committee of Mr. Zardari's ruling Pakistan People's Party, defended the government's actions so far. "The government has to protect lives and properties of its constituents," she says.
---