Pakistan resumes peace talks with Taliban amid heavy offensive
To bolster tenuous progress, the Army must push on to drive the Taliban out of Swat Valley, according to some analysts.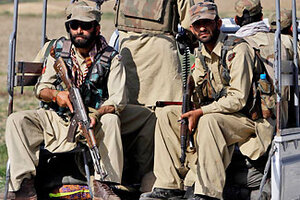 Mohammad Sajja/AP
After five days of heavy fighting between the Pakistani military and Taliban forces in the country's Northwest Frontier Province, the first glimpse of a possible cease-fire appeared Friday following the resumption of talks between the provincial government and Sufi Mohammad, the spiritual leader of the Swat Valley Taliban.
Pakistan's progress in its battle against the Islamist insurgency, however, may hinge upon the government's willingness to send the Army into the Taliban stronghold of Swat to complete the job, according to some analysts.
"If they are serious, they will have to go back into Swat. Is this going to be another case where they push them back – allow them to regroup later and reemerge at a different point – or will they go on to eliminate them?" asks Ahmed Rashid, author of "Descent into Chaos: The United States and the Failure of Nation Building in Pakistan, Afghanistan, and Central Asia."
The Taliban, which has held the Swat Valley since 2005, first entered the districts of Buner and Lower Dir, some 62 miles northwest of Islamabad, at the beginning of April, creating panic within Pakistani civil society, the government, and abroad. The alarming rate of Taliban expansion led US Secretary of State Hillary Clinton to declare that the nuclear-armed state was becoming a "mortal threat" to the world. A counter-attack by the military began last Sunday.
---
Follow Stories Like This
Get the Monitor stories you care about delivered to your inbox.