Pakistan's war refugees losing patience
Some say they don't mind being uprooted for now – if the Taliban are ousted for good. The Army says it should clear militants from major towns within days, though rooting them out from rural areas may take months.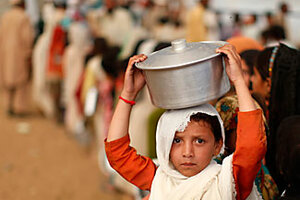 Adrees Latif/ Reuters
As Pakistan's military operation to clear the Taliban from Swat Valley enters a decisive phase, it's won support from an unlikely group: the residents who had to flee the fighting and whose homes and business may be destroyed when they return.
But that backing is on the decline, as internally displaced persons (IDPs) taking shelter in camps, community centers, and other people's homes, wait in vain for the news of key Taliban leaders being killed or arrested – and as temperatures top 110 degrees F.
Some worry this Pakistan offensive may turn out like previous two in Swat since 2007: a military defeat, and an even stronger Taliban.
"Although our houses were destroyed, businesses suffered, near and dear ones killed, even then we shall be happy if the Army eliminates the Taliban chief [Maulana] Fazlullah and his key commanders," says a local elder from Matta Tehsil in Swat, who is currently living in a rented house in nearby Mardan District.
"This whole practice [operation] shall be no more than a farce if they [the Pakistan Army] conclude the operation without killing Fazlullah and his commanders, who are responsible for the destruction of Swat," he continues.
---