Zardari's popularity sags - will it undermine Pakistan's fight with Taliban?
One year after becoming president, the widower of Benazir Bhutto has been battered by economic crises and political missteps – despite some military successes.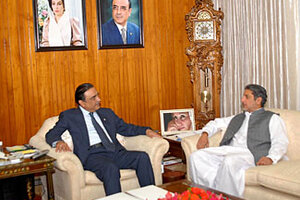 DEAN PICTURES/Newsom
Recent battlefield successes in Pakistan have done little to bolster the flagging popularity of President Asif Ali Zardari, who, one year into office, faces a trust deficit that may compromise his ability to lead the country's war on militancy.
A Pew research poll conducted in May found that just 32 percent of the country had a favorable opinion of Mr. Zardari, down from 64 percent shortly after he came to office.
A similar poll by the International Republican Institute the same month found that 72 percent of people disliked him. Nawaz Sharif, leader of the main opposition Pakistani Muslim League-Nawaz (PML-N), had a 79 percent favorability rating in the Pew poll.
The Pakistani military wrested the vast majority of the Swat Valley from militant control in late June and provided intelligence used by US forces to kill former Taliban leader Baitullah Mehsud in a drone attack in August.
But these success stories have not been translated into political capital by the government, according to Rasul Baksh Raees, a political scientist at the Lahore University of Management Sciences (LUMS).
---