Rebuilding Afghanistan: Will government take hold in this post-Taliban town?
District governor Massoud Balouch visited to Khan Neshin in southern Helmand Province of Afghanistan, which is building a new government with help from US Marines and with foreign aid. Getting good leaders in the area has proved difficult.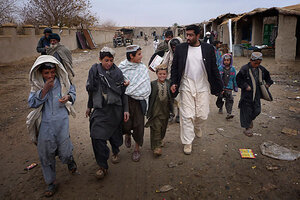 Sebastian Abbot/AP
District governor Massoud Balouch stepped off a US military helicopter in December with gifts in tow for Khan Neshin: A new doctor, mayor, education minister, and registration official.
The next morning, Mr. Balouch entered the bazaar with his education minister and, like the Pied Piper, gathered up idling children and walked with them to the school. One toddler, wearing a dirt-covered pink parka and muddy green boots, complained of a tummy ache, and he dispatched the new doctor to see her.
Government had arrived to this post-Taliban town in southern Helmand Province, but would it stay? Two doctors came earlier, and fled within 24 hours. A group of police failed a drug test, revolted, and were deported by US Marines. One teacher remained on an extended holiday while the rest stayed home. Balouch fired the mosque's new mullah after the man stabbed his own brother.
Returning stable government to regions cleared of the Taliban – the linchpin of the US exit strategy in Afghanistan – relies on finding and keeping good leaders. The struggle to bring more officials to work with Balouch reveals how rare he is. And the quiet international aid backing him highlights how far Afghan government is from self-sufficiency.
---