US troop presence in Pakistan meets surprisingly muted response
One day after three US soldiers were killed in the north, the widely anticipated backlash at US troops operating on Pakistani soil has yet to erupt.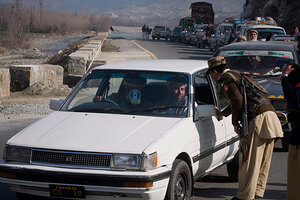 Anjum Naveed/AP
A suicide attack Wednesday on a Pakistani paramilitary convoy that killed three American soldiers and five others near a girls' school in the north was a reminder of the increasing US military commitment to the country.
The dead soldiers were among roughly 70 US special forces troops currently training Pakistani soldiers in counterinsurgency tactics as part of a $700 million military aid program in the current fiscal year. They were the first casualties of the training program. US involvement is set to rise, with President Barack Obama proposing $1.2 billion in military aid for Pakistan in the 2011 budget.
But while the US military presence in Pakistan is deeply unpopular with the public at large -- a poll conducted last October by the US-based International Republican Institute found that 80 percent of Pakistanis oppose cooperating with the US in the so-called war on terror -- the response to the attack has been muted.
While some analysts had predicted the incident would crystallize Pakistani resistance to the US presence here, since Pakistani children were among the victims, a backlash has failed to materialize.
The Pakistani Taliban claimed credit for the bombing in Lower Dir, insisting that the Americans killed were members of Blackwater, the private security contractor now known as Xe. The militant group accuses the firm of carrying out bomb blasts in Peshawar and other cities in the country, a conspiracy theory that has been floated in Pakistan since last year.
---