When things go boom in the night, Pakistanis blame Blackwater
The US says it doesn't work with the security firm Blackwater in Pakistan, and the Pakistani government insists no Blackwater employees are working in the country. But many Pakistanis doubt those assertions, complicating US efforts to build trust.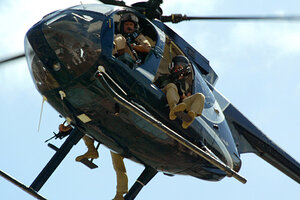 Patrick Baz/AFP/Newscom/File
Armed Americans are driving around in unmarked cars, getting caught, and mysteriously released. Who are they? Blackwater, running covert ops for the United States in Pakistan.
Or at least that's what large numbers of Pakistanis appear to believe.
It sounds like textbook conspiracy theory. But in a country that's already highly suspicious of the US and the notorious security firm, rumors that germinated in small circles have spread nationwide and taken root among mainstream journalists and intellectuals.
For many Pakistanis, the tales confirm that America at best cannot be trusted. For the US, they create another wall of resistance to convincing Pakistanis the US is an ally, one that desperately needs their help fighting the Taliban and Al Qaeda.
These days "any embassy vehicle that's got men who are in good shape seem to be Blackwater," says US Embassy spokesman Richard Snelsire. "It certainly makes getting our message across more challenging."
Mr. Snelshire says he fields as many as 20 calls a day when especially scandalous reports about Blackwater (which has rebranded itself as Xe) hit newsstands. He says the embassy only employs security contractors from a different firm, DynCorp, and only to train Pakistanis as security guards.
---