Tsunami warning: Japan evacuates northern coasts
A tsunami warning is out for the eastern seaboard of Japan.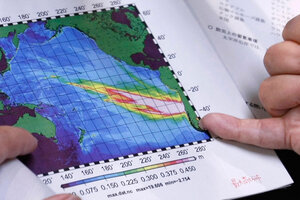 TORU HANAI/REUTERS
Japan warned on Sunday that its northern Pacific coast faced a possible tsunami of 10 feet or more and ordered thousands of coastal residents to evacuate to higher ground, after a massive earthquake in Chile.
The tsunami could hit northern areas of Japan's main island of Honshu around 1 p.m. (11 p.m. EST), the Japan Meteorological Agency (JMA) said.
The affected coast, where around 140 people died in a previous tsunami 50 years ago, has many small harbors that will concentrate the force of a tsunami.
IN PICTURES: Images from the 8.8 magnitude earthquake in Chile
"The waves could climb up the land, so for real safety you should evacuate to a place several times higher than the predicted height of the waves," JMA official Yasuo Sekita told a news conference.
The tsunami was racing across the Pacific after one of the world's most powerful earthquakes in a century struck Chile on Saturday, killing more than 300 people.
The tsunami warning covered the eastern seaboard of Japan, although for Tokyo Bay and many other areas the warnings were for waves of only around one meter (3 ft), similar to that seen earlier in Hawaii and New Zealand.
---