India, China make mark on Forbes rich list
According to the latest Forbes rich list, China now has more billionaires than any country outside the US. India's billionaires, however, are richer. Eight made the Top 100 and two, Mukesh Ambani and Lakshmi Mittal, rank in the Top 5.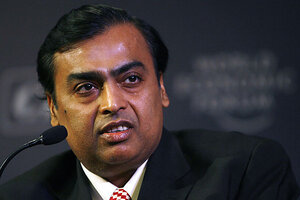 Manpreet Romana/AFP/Getty Images/File
With the release of the latest Forbes rich list of billionaires, India is finding much to brag about – even as other fast-growing economies like China make their mark.
Eight Indians made Forbes magazine's latest list of the top 100 billionaires, and two – energy tycoon Mukesh Ambani and steel mogul Lakshmi Mittal – sit in the top 5. Mr. Ambani is now the fourth richest person in the world, and the richest person in the Asia-Pacific region.
The highest-ranking Chinese person on the list is Li Ka-shing of Hong Kong, ranked No. 14 with $21 billion.
Ten of Asia's top 25 billionaires are Indian, while one is from China.
---