Pakistan Taliban: US drone strikes forcing militants underground
Some Pakistan Taliban officials say leaders now meet in secret for fear of US drone strikes. But they vow to keep up their own offensive, as evidenced by a string of bomb attacks last week that killed 70 people.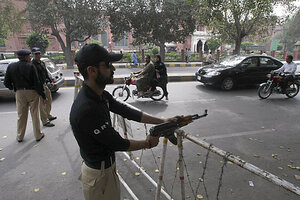 K.M. Chaudary/AP
Bajaur Agency, Pakistan; and New Delhi
Some Pakistan Taliban members in the tribal areas say the onslaught of US drone attacks and Pakistani offensives in recent months is forcing the group underground and creating fractures.
But they threatened to maintain their own suicide and car bomb campaign – a threat borne out over the past week in a string of suicide bombs in Lahore and the northwest that killed at least 70 people.
Such attacks serve as a reminder that the Pakistani Taliban remain far from finished off despite losing territory, momentum, and top leadership over the past year.
IN PICTURES: Drone jockey: New Air Force poster boys
"Our meetings take place on a regular basis, but the leadership is underground due to security concerns…. It is not only because of drones, but the Pakistani Army, too, is targeting us," says Taliban spokesman Tariq Azam in a phone interview from an undisclosed location.
"The Taliban will continue to strike back if the drone attacks are not stopped," he says.
Taliban on the run
A visit over the weekend to the Bajaur tribal agency on the Afghan border appears to back up recent military announcements that the region has been cleared of militants.
Local tribesmen, with the help of Pakistani security forces, have formed lashkars, or armed posses, numbering in the hundreds. Together they have torched more than 100 homes of Taliban members and supporters and destroyed some training camps.
---