UN report blames Benazir Bhutto's assassination on Pakistan government lapses
A new UN report into the assassination of former Pakistani prime minister Benazir Bhutto blames the Musharraf government for failing to protect her. It also alleged that Pakistani intelligence services may have "hampered" the investigation.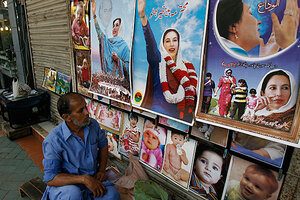 Athar Hussain/Reuters
A United Nations report into the assassination of former Pakistani prime minister Benazir Bhutto almost three years ago has concluded that her death could have been prevented "if adequate security measures had been taken."
While the report, which was released Thursday night, does not name Mrs. Bhutto's killers, it notes that the government of former military ruler General Pervez Musharraf failed to provide adequate security despite specific intelligence related to an assassination attempt six days prior to her murder. The report is more critical of the role of Pakistan's shadowy intelligence agencies, including the Inter-Services Intelligence (ISI), which it says "hampered" the UN investigation and failed to share its own findings with civilian law-enforcement agencies.
No startling revelations
The commission's findings contain no startling revelations to most Pakistanis, according to Cyril Almeida, a columnist for the Dawn, a leading English-language daily newspaper in Pakistan. Instead it "points in the obvious direction we've known for a long time."
Still, it is being lauded by top leaders of the ruling Pakistan People's Party (PPP), which Bhutto led. "This is important because it brings the weight of the commission which has to be accountable for its findings. Earlier, it was still thought to be speculation," says Sherry Rehman, a member of parliament for the PPP and a former close aide of Bhutto.
---