Pakistan bans Facebook, Youtube over 'Draw Mohammad Day'
Pakistan blocked YouTube, Wikipedia, and other websites Thursday to try to suppress a Facebook page declaring Thursday Everybody Draw Mohammad Day. Many protested the 'blasphemy' of depicting the prophet.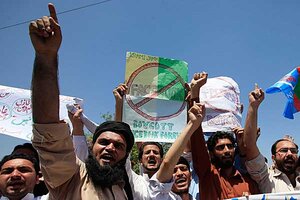 Fayaz Aziz/Reuters
Pakistan has stepped up its campaign against a "blasphemous" online competition to draw the Prophet Mohammad by extending a ban on Facebook to YouTube, Wikipedia, mobile Blackberry services, and a number of other websites.
The move was seen as a nod to public anger at Facebook users who created a page declaring Thursday "Everybody Draw Mohammad Day!" It is the latest incident of individuals flouting Islam's taboo against depicting the prophet and provoking an angry response, in Pakistan and other predominantly Muslim countries. While some Pakistanis called the bans an overreaction, many rallied in support of the move.
"Everyone should take care not to hurt other's religious sentiments. The actions of Facebook are against our constitution and penal code," says Mohammad Azhar Siddique, one of the lawyers who petitioned the Lahore High Court for the ban. He adds that the government should also be held accountable for not taking actions to remove offending content earlier.
The country's telecommunications authority was ordered by the Lahore court on Wednesday to temporarily block access to Facebook after users of the social networking site created a page declaring Thursday "Everybody Draw Mohammad Day!" The website had already prompted protests in Pakistan and spawned several other Facebook groups opposing it.
---