'Kites' movie brings together 'Rush Hour' director and Bollywood
An Indian film company hopes to market the 'Kites' movie to American audiences by bringing together a beautiful Mexican actress, Bollywood's biggest hunk, and the director of 'Rush Hour.'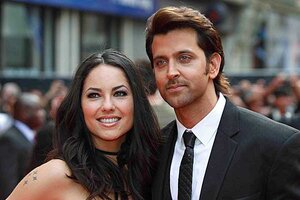 Lefteris Pitarakis/AP
What brings together a beautiful Mexican actress, India's premier silver-screen hunk, and the director of "Rush Hour"?
Bollywood's most serious bid yet to show it's not just Hollywood that can export films.
India's Reliance Big Pictures today debuts "Kites," a 130-minute story about two lovers on the run who don't speak the same language.
Director Brett Ratner of "Rush Hour" movie fame has edited that original Hindi-language version by dubbing it into English, toning down the soundtrack, removing a dance sequence by the critically acclaimed Indian lead, Hrithik Roshan, and adding a racy scene. Mr. Ratner's 90-minute "Kites: The Remix" premieres in US and international theaters May 28.
"I think this is going to be some sort of a breakthrough ... a first milestone," says Reliance MediaWorks CEO Anil Arjun, explaining that "Kites" is the first time Bollywood has so thoroughly edited a film to appeal to Western viewers.
Bollywood goes international
---