Afghanstan war: Convoy security deal to benefit Karzai's brother?
An Afghan private contractor in Kandahar, with close ties to Karzai's brother, is up for a contract to protect supply convoys for US troops in the Afghanistan war.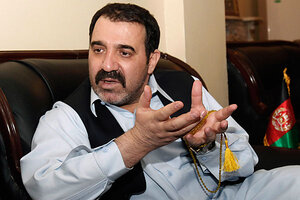 Rahmat Gul/AP
Afghan President Hamid Karzai is weighing approval of an expansive new business deal that could give his controversial half-brother, Ahmed Wali Karzai, increased influence over the lucrative security business that protects supply convoys for U.S.-led forces in southern Afghanistan.
As American strategists prepare military and political moves to extend government control in Kandahar this summer, President Karzai has before him a plan that would give a key ally of his half-brother the power to run the newly created Kandahar Security Company.
If approved quickly, the deal could allow the firm to obtain millions of dollars in contracts this summer as the U.S. military sends thousands of additional troops into southern Afghanistan.
Top Afghan officials say they're backing the deal as a way to gain control over rival security firms that have sometimes engaged in violent clashes over multi-million-dollar contracts in the Afghanistan war.
Karzai's critics view the security consolidation as a covert effort to solidify Ahmed Wali Karzai's already-unrivaled hold on power in Kandahar. His grip on the city is widely seen as a major obstacle to establishing good local governance, a critical requirement for the success of the U.S.-led counterinsurgency operation.
---