Gary Brooks Faulkner: 'American ninja' hunting Osama bin Laden
Gary Brooks Faulkner, a California construction worker, was detained in Pakistan carrying a sword, a pistol, and night vision goggles. He was hunting for Osama bin Laden near Chitral, Pakistan. Was Faulkner on the right track?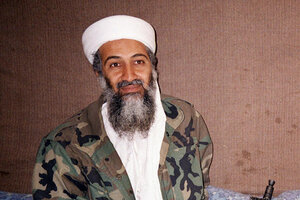 AFP/Newscom/File
Gary Brooks Faulkner, an American citizen who told police he was searching for Osama Bin Laden, has been arrested in northwest Pakistan armed with a gun, a sword, and Christian literature.
The 52-year-old California construction worker arrived in the picturesque mountain border province of Chitral, which borders the Taliban stronghold of Nuristan in Afghanistan, on June 3, accompanied by a security guard that is mandatory for foreigners entering the area, Pakistani police said.
After hotel security guards noticed he had vanished on Sunday night, a search party was dispatched. After a 10-hour manhunt they found Faulker some 14 kilometers (9 miles) from the Afghan border, according to police official Mumtaz Ahmad Khan.
Faulkner was also carrying night vision goggles and a dagger to go along with his sword. He has since been shifted to police custody in Peshawar, capital of the Khyber Pakthunkwa province.
---