Afghanistan's only golf course: Bring your clubs and AK-47
The nine-hole Kabul golf course is the only one in Afghanistan. The greens are petroleum black. The fairways filled with rocks and scrub. But that doesn't stop golf aficionados who play with a ball finder and armed security guards.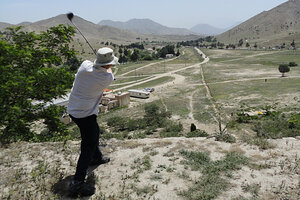 Timothy Kenny
• A daily summary of global reports on security issues.
After war, a time for golf.
There is nary a blade of grass at the Kabul Golf Club, just outside Afghanistan's capital. The greens are not green; they are hard-packed brown sand, laced with oil and swept clean to keep the putting surface smooth. The fairways are rock-strewn and scrub-filled.
Ball finders – required, according to course rules – accompany golfers and their caddies, who carry a swatch of artificial turf and tee up each new shot. Without the ball finders to search in all the brush and undergrowth, a round of golf would likely be much shorter here at Afghanistan's only course. Why? Because most golfers would give up before finishing.
Michael Alexander, a Londoner who has played his way across some of Britain's best courses, notes that golf at the nine-hole Kabul Golf Club provides moments that playing at St. Andrews can't.
"The Army checkpoint," for example, he says. "The free [ball] drop at the Army checkpoint – that was the real difference with St. Andrews," says Mr. Alexander, tongue in cheek.
A recent charity tournament here brought out 44 golfers, paying $100 each, for the privilege of playing the hard-scrabble course west of Kabul.
---