In Afghanistan, drug rehab for children
Children in Afghanistan are often fed opium to stop their crying, and many are born to addicts. A few clinics offer drug rehab for youths, but they are scarce and socially taboo.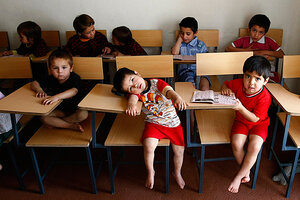 Omar Sobhani/Reuters
Najiba scrabbles through cupboards frantic for something sweet. She claws at her mother, urging her to help. Najiba, though only 13 years old, lives in the Sanga Amaj drug addiction rehab clinic in Kabul with her mother, Zainab – who is also an opium addict, a habit acquired from her husband and passed on to her daughter.
"When she was born, she kept crying, so after two months or so I started giving her opium to keep her quiet," says Zainab. (Her and Najiba's names have been changed to protect their privacy.)
The result is a drug dependency that Najiba is now desperately fighting.
Yet she is neither alone among Afghan children addicted to opium, nor among the worst affected. For starters, she's one of a small minority getting professional help.
Opium as a pacifier
Opium is used in parts of Afghanistan to quiet babies and, in poorer households without access to medical help, to relieve pain – trends exacerbated by decades of conflict. Economic pressures and fragmented families have meant that women have less help at home and are more likely to give opium to cranky children, to free themselves up to do housework.
"Opium is sometimes used as a child-rearing method," says Preeti Shah, a Narcotics Affairs Officer of the US Bureau of International Narcotics and Law Enforcement Affairs (INL) in Kabul.
The conflict has also left people with deep physical psychological wounds, which they try to numb with narcotics.
---