Wikileaks confirmed? A plan to kill American geologist with poison beer
The Wikileaks documents contain a claim that Pakistan and Afghanistan insurgents were working to poison alcoholic drinks in Afghanistan. While that's unproven, one US adviser in Afghanistan tells the Monitor he was almost poisoned that way in 2007.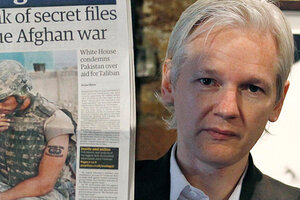 Andrew Winning/Reuters
An attempt was made to poison a key American adviser involved in the bidding for a multibillion dollar mining contract in Afghanistan by replacing beer in a bottle with sulfuric acid.
The little-reported incident occurred in June 2007 but takes on new interest with the publication by the Wikileaks website of an intelligence warning in February 2007 that Pakistan's ISI spy agency was planning to poison soldiers' alcoholic drinks.
James Yeager, an American geologist who advised Afghanistan's Ministry of Mines, tells the Monitor he returned to his residence in Kabul to find it had been burgled. The intruder took money from a drawer and left behind a bottle of Corona beer.
IN PICTURES: Top notorious spies
The Corona bottle sat on his counter for the next two weeks Yeager says, because Corona is one of his least favorite beers. He finally opened it during a going away party as the other drinks began to run low.
"I pulled it out and when I popped it there was no fizz and the cap was loose," says Yeager. "Because this one didn't have fizz you wonder if it went rancid or not, and I just kind of sniffed it and I went 'Oh, that doesn't smell like beer.' "
Yeager, a geochemist familiar with acids, realized it smelled like sulfuric acid – otherwise known as battery acid. He called a friend over who had the same reaction to the smell. Yeager poured the "beer" into the toilet and it foamed and fizzed, leaving "no question" in his mind it was sulfuric acid.
Among the 90,000 documents made public by Wikileaks is an intelligence report claiming that Pakistan's spy agency, the Inter-Services Intelligence (ISI), and insurgents were plotting a similar type of tampering.
---