Afghanistan election will still include suspected war criminals
Afghanistan elections planned for September aren't supposed to include parliamentary candidates with ties to militias. Problem is, many of those disqualified aren't actually involved with militias. 'The net caught a few small fish while the sharks swam around it,' says one election official.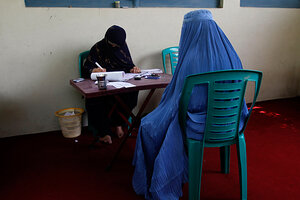 Rahmat Gul/AP
On July 7, Afghanistan's Electoral Complaint Commission (ECC), which is supposed to be an independent body for vetting candidates and investigating allegations of electoral fraud, announced that it had disqualified 36 candidates for parliament on evidence they had ties to illegal private militias.
After last year's presidential election, which international and local observers said was badly skewed by ballot stuffing that undercut the legitimacy of President Hamid Karzai, electoral authorities promised new procedures to curtail fraud in upcoming parliamentary elections, scheduled for Sept. 18.
So a commitment by an independent commission to disqualify candidates with ties to militias – which have undermined attempts at imposing central government authority for decades – might seem like a good start to cleaning up Afghanistan's electoral process.
There were only three problems.
The commission didn't actually have a role in deciding whom to disqualify. None of the well-known commanders who many Afghans believe committed war crimes in the past were on the list. And it appears that many of those disqualified aren't involved with militias.
The way this was handled is a reminder that truly independent electoral oversight has not yet been established after nine years and tens of billions of dollars spent by the United States and NATO allies to establish an Afghan democracy.
Government cover-up?
US officials once touted a parliamentary election here as vital to improving the country's government. It now appears that the US just hopes there will be less fraud and that this will help Afghans learn the ropes of voting. "There have been a lot of improvements. Yes, there are still going to be problems. But it's better to have a flawed election than no election at all," says one US diplomat.
---