Pakistan's political future questioned after the flood
As Pakistan struggles to recover from what may be the worst flooding in its history, the future of the country's leadership has been called into question.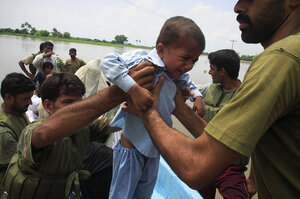 K.M. Chaudary/AP
Will the fallout from the worst natural disaster in Pakistan's history result in the downfall of its fragile civilian government?
That question is front and center as the perception grows among Pakistanis that the government response to flooding has been lackluster and insufficient.
More than 17 million people have been affected by the floods, and about 17 million acres of farmland are under water. Amid the crisis, the military has been out front, driving high-profile rescue efforts with some 60,000 Army troops.
That is turning debate to the question of how best to govern a country that has experienced military rule for roughly half of its 63-year existence. Spurred by dismay over politicians who were slow to address their constituents' needs (and a president who continued to tour Europe as the crisis grew), momentum in favor of military rule appears to be picking up among Pakistan's upper-middle classes – historically the group least likely to favor democracy. "At least the Army gets the job done, unlike the politicians who only seem to care for lining their pockets," says Ali Sajjad, a textiles businessman in the city of Lahore.
---