Pakistan floods raise questions on the future of politics in Pakistan
President Zardari announces that the country could take three years to recover from the Pakistan floods. Politicians have been notably absent in Pakistan recently.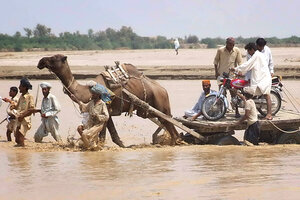 Saleem Raza/AP
Pakistan's embattled President Asif Ali Zardari has warned the country could take at least three years to recover from the devastating floods that are continuing to wreak havoc four weeks after they began.
In an interview with a group of foreign correspondents in Islamabad, Mr. Zardari said at least three years was required to rebuild its infrastructure but added: "I don't think Pakistan will ever fully recover."
Pakistan's floods have also weakened the standing of Zardari, who did not return from a trip to Europe when the crisis began, as well as parliamentarians generally, who have in many cases been notably absent from their home constituencies. The Army, meanwhile, which has ruled Pakistan for roughly half of its 63-year existence, has profited from some good public relations.
---