Pakistan floods wipe out more than 1 million animals – and farmers' livelihoods
The death of more than a million livestock in the Pakistan floods has wiped out years of farmers' savings. How the government responds will shape the country's economic future.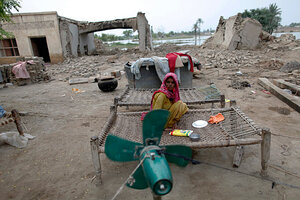 Damir Sagolj/Reuters
Floodwaters swept away Ghulam Hussain's house in Pakistan, $1,100 in jewelry, and $400 cash in a box set aside for his daughter's wedding. But the biggest financial blow to his family – and to many thousands of others – may be the damage to their herds of livestock.
Mr. Hussain lost four cows (worth $1,600) and four goats (worth $465). The remaining animals are sick, stressed, and not producing much, he explains as he shows the meager goat milk he just squeezed.
"I am waiting for compensation from the government, then I will treat these animals and sell them when they are in better condition," says Hussain, sitting on the side of a road. If money doesn't come soon, however, he says he – like many others – will have to sell at a steep discount.
For Pakistan's rural poor, the death of more than a million livestock represents something akin to a Western stock market crash that wipes out years of savings. Animal products also make up more than 10 percent of the country's gross domestic product. How and if Pakistan bails out livestock owners will affect the way millions get back on their feet and the economic future of the nation.
A place to start recovery
Muhammad Abdullah, a livestock expert at the University of Veterinary and Animal Sciences in Lahore says that "we should provide support to those who are maintaining animals, not to those who just claim 'I lost animals,' because those claims are hard to verify."
---