Angelina Jolie is more than a pretty face for Pakistan flood relief
Angelina Jolie, a veteran of humanitarian work, has traveled to more than 20 countries. Pakistan's crisis was greater in scope than any she had ever witnessed, Angelina Jolie said.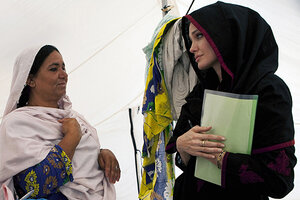 J. Tanner/United Nations High Commission for Refugees/AP
Islamabad, Pakistan; and Boston
Angelina Jolie, the Hollywood celebrity with access to everyone from heads of state to humble refugees, used her global megaphone today to solicit donations for Pakistan's 21 million flood victims. The United Nations, for whom Ms. Jolie serves as a goodwill ambassador, is struggling to raise the last third of a $460 million appeal for emergency funds.
A veteran of disaster scenes whose humanitarian work has taken her to more than 20 countries, Jolie said Pakistan's crisis was greater in scope than any she had ever witnessed. While Hollywood stars rushing to disaster scenes often lead to rolling of eyes and complaints that they do little good, at least some veteran aid workers in Pakistan are delighted that Jolie is on the case.
Ishfaq Ahmed, head of operations for the Hashoo foundation in Pakistan, was grateful for the added attention she brought – particularly amid claims of corruption in aid distribution and complaints about Pakistan's mediocre record in tackling militancy.
"I think it's really helpful because we have problems on a massive scale in Pakistan... we have a big catastrophe on our hands and we have a big trust deficit," said one of his employees, who did not want to be named. "A lot of Westerners who would come to help, now think twice about coming. A celebrity coming over is a symbol of trust and shows their support.... It's brilliant, it helps improve our image."
Jolie toured a camp of 6,000 people, whom the employee described as living in "terrible conditions" despite the camp's proximity to Islamabad, the capital.
---