Haiti's pressing need: rain-resistant shelter for 750,000 homeless
With the rainy season set to arrive in Haiti, aid organizers say the top priority is to bring in shelter that can withstand rain and even hurricanes. Some 750,000 people still do not have basic shelter or are crowded in with relatives and friends.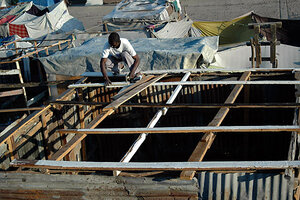 St Felix Evens/Reuters
Haitians keeping one eye on the sky may be looking for the arrival of Angelina Jolie, the United Nations goodwill ambassador scheduled to visit humanitarian-aid sites in the earthquake-ravaged country on Tuesday.
But on other days the sky-watching has more to do with worries about rainfall and Haiti's approaching rainy season. The rains, which so far have steered clear of the devastated capital of Port-au-Prince, will add to Haiti's relief effort a new layer of health and shelter challenges, say international humanitarian officials and disaster experts.
And despite the massive initial outpouring of aid from the world and the US in particular, the sheer size of the needs – coupled with a debilitated Haitian government – means that assistance is falling short, especially for shelter.
"Our concern now is that the rainy season is about to come," says Kim Bolduc, UN Secretary General Ban Ki-moon's deputy special representative to MINUSTAH, the UN's stabilization force in Haiti. "The priority now is on delivering some sort of hurricane-proof shelter."
---