Afghans protest Quran burning
A number of protests broke out in Afghanistan Friday and turned violent in response to Quran-burning plans by a Florida pastor, even after the pastor said he cancelled those plans.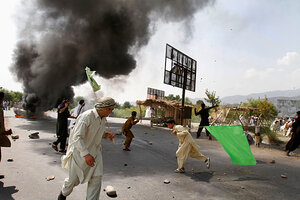 Rahmat Gul/AP
Protests over reports of plans by a US church to burn Qurans grew in Afghanistan Friday, with demonstrators marching in the streets in seven provinces, largely unaware that the Quran burning had been called off.
At least one protester was killed in the northern province of Badakhshan and more than 10 were wounded in various incidents around the country, government officials said.
The demonstrators attempted to force their way onto a NATO military compound, sparking clashes with police. Demonstrators chanted "death to Christians" and burned US flags. It was unclear who fired on the demonstrators.
WATCH VIDEO: Build a 'mosque' near ground zero?
RELATED: 11 countries speaking out against Koran burning in Florida
Protests also took place in Kabul and various provinces in the east and west of the country.
"The Russians invaded our lands to destroy our religion and we stood against them," said one protester in Kabul Province. "America is showing that it is opposed to our religion and culture as well. We will stand against them as well."
Pastor Terry Jones of the Dove World Outreach Center in Gainesville, Fla., had planned to burn Qurans on the anniversary of 9/11, but he announced Thursday evening that he had canceled the event. Some reports indicated, however, that the church might be reconsidering its decision. Most demonstrators interviewed Friday said they were not aware of the church's recent announcement to cancel.
---